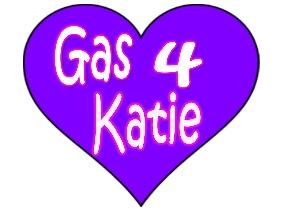 In 2013, I founded the Gas4Katie Cancer Foundation to support my neighbor and friend, Katie Hawley, who was battling a rare form of cancer called Neuroblastoma. Katie's parents had to drive her back and forth from Orange County to LA almost every day for her chemotherapy treatments. I wanted to do something to help so I thought to raise money in the form of gas cards to help ease some of the burden for their family. Fortunately, Katie is now 18 and after 4 battles has no evidence of disease! In honor of Katie being in remission, I have now expanded my foundation to help other local families here in Orange County and San Diego County who are also suffering from Pediatric Cancer. 
– Ashley Bussell, Gas4Katie Cancer Foundation Founder
 Ashley and her pretzel jar, Spring 2013
THE PRETZEL JAR FUNDS GET MATCHED, thanks to the Las Flores Chevron and Car Wash.