Beneficiary Stories
Katie Hawley (Ladera Ranch, CA)  **Ashley's Inspiration**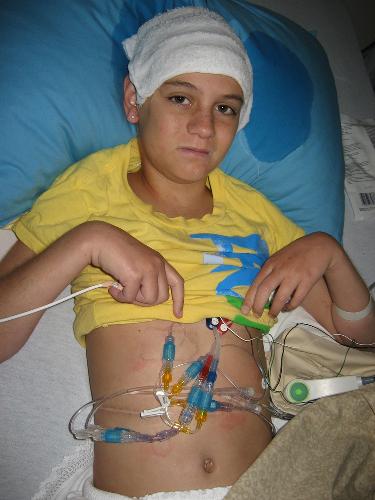 Catherine (Katie) Hawley is a happy, outgoing, athletic and very spiritual 9-year-old girl. She has always been able to comfortably walk into a room of strangers and ask the first person she sees if they would like to play. At a very young age, she led our family in prayer at the dinner table.
At age 4 she started playing AYSO soccer with me (her dad) coaching her. Coaching my daughters was one of the most fulfilling experiences I have had as a father. Katie excelled, so at age 6 we decided to enroll her in a competitive club soccer program with the Southern California Blues.
In Jan/Feb of 2009, during the Blues run for the California State Championship, we noticed a slight difference in her energy level but dismissed it as her just needing a break for a few weeks. During that time, I also noticed her struggling to keep her feet under her. She appeared to labor to get up to speed and she seemed to have lost some of her quickness. Again, I dismissed it due to her recent growth spurt.

In the spring of 09 her club team took a much needed 2+ month break after they lost in the GU9 State Championship game. In this "off-season" period for the Blues, she continued to play soccer for the Ladera Ranch AYSO GU10 Plus team. That team won the championship for south Orange County and the end of season Area Tournament. At the same time, Katie worked out at an indoor conditioning facility.

During the early summer months her club team played in several soccer tournaments. Before the first Surf Cup tournament game on Saturday morning July 25th Katie threw up. About 2 days prior, Katie had complained about some minor but persistent abdomen pain. We thought she might have the flu, but she felt better after throwing up so we let her play. She was just not herself. She sat out during the 2nd game Saturday afternoon only to wake up on Sunday morning feeling better and wanting to play again.

Then the following Monday, July 27th, I decided to take her in to the local Urgent Care facility to get examined. Thank God for the perceptive Physicians Assistant that saw Katie named Michelle B. She just didn't think things seemed right and ordered an abdominal x-ray and ultrasound. The ultrasound showed a "mass" near Katie's stomach area, so a CT scan was ordered for the next day. The result was further confirmation of the existence of the tumor.

This was the most shocking and devastating news Mary Kay and I had ever heard. We cried during and in between making the calls to our family to tell them. At this point we did not know if the tumor was cancerous.

Another parent on Katie's soccer team had connections into the medical community.  That parent's name is Curt Wasserman and I will forever be in debt to him. Through his actions, and those of our new friend Len Shulman, we were immediately connected to Dr. Cairo in NY. Dr. Cairo is a world-renowned leader in Oncology. He was on a speaking engagement in Texas but offered his contact information to us, perfect strangers to him, so he could assist. He guided us to Dr. Marcio at CHLA, who is also a widely recognized "world expert" in Pediatric solid tumors. Dr. Marcio agreed to see Katie the next day, Friday, July 31st. That day, we were introduced to Dr. Stein, the leading pediatric surgeon at CHLA.

On August 5th, 2009, she underwent surgery to remove the tumor that was causing her abdominal pain. During surgery, it was determined that the tumor was malignant. Katie was diagnosed with Stage 3, High Risk, GanglioNeuroblastoma, nodular cancer. The egg-sized tumor growing from her right adrenal gland (and the adrenal gland itself) were removed, as were 2 of Katie's lymph nodes. Cancer remained in her abdomen and she began chemotherapy treatments at CHLA on August 11th under the care of Dr. Araz Marachelian who we have the utmost confidence in.

In all, Katie has had 4 surgeries, 6 cycles of Chemotherapy, Stem Cell Chemotherapy, 12 rounds of Radiation, 5 rounds of ch14.18 and high doses of Accutane. She was declared N.E.D. (no evidence of disease) in December of 2009
In February 2013, the GanglioNeuroblastoma returned, along with bone cancer.  Katie was accepted into a Phase I Clinical Trial in San Francisco. Katie continued the battle, which has been more than half of her life, and as of 2018 she is NED.  She has graduated from high school and is now a college student. 
Visit Katie at:  www.caringbridge.org/visit/katiehawley
Niko Greco (Lake Forest, CA)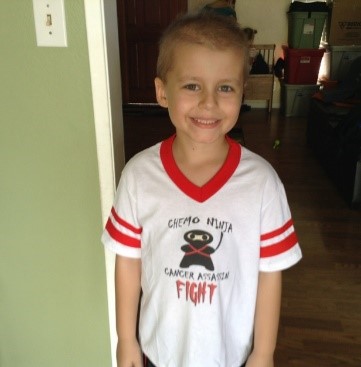 On January 12, 2014, then 5-year-old Niko was complaining about a pain in his knee and elbow so severe he couldn't move his arm. After numerous doctors and tests, blood work confirmed his parents' worst nightmare, he had leukemia. Niko was transferred to the Children's Hospital of Orange County (CHOC), where he has gone through two years of daily chemotherapy. He has undergone numerous surgeries, painful chemo, and spent days in the hospital dealing with side effects of his treatment. Niko is now primarily in outpatient with treatments scheduled to continue until May of 2017. He has had many setbacks along the way with being allergic to many of the antibiotics, chemo, and even blood products. He has spent weeks without food and tubes and drains coming out of his entire body, even suffering from stroke like symptoms from one chemo, but throughout all of his struggles he has never lost his spirit or his faith, and those two things have carried him thus far.
When not in the hospital battling cancer, Niko's favorite place to be is on the ice rink playing hockey!  His favorite teams are the Kings and the Ducks.  He also loves playing baseball and is a huge Angels' fan.  He favorite thing to eat is a big pasta dinner and he can master any Lego build or video game (with Minecraft being his favorite right now).
Thank you for your support.
Saylor Voris (San Clemente, CA)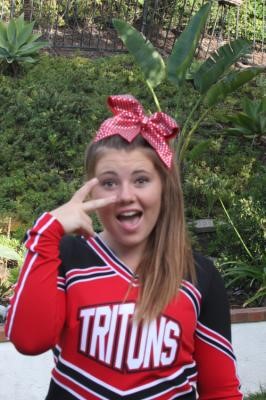 Two weeks after school started, 2013, I got some weird sore throat and cold that would not go away for over a week and I started to get really tired. I also noticed I had this kind of bug bite on my leg that started to look really bad.  I showed my parents and they said, "If you still feel bad in the morning, we'll take you to the doctor. Well, by morning my leg was so hot and painful, I could barely walk on it. Mom rushed me right over to Saddleback Hospital here in San Clemente. They did not like what they saw and said my blood pressure was very low. They were not exactly sure what was going on, but they needed me transferred right away to the next closest hospital with a hematologist on staff, so off to Mission Hospital in Mission Viejo I went. While there, they ran some more blood work and found the same results.  My white and red blood cells were "alarmingly" LOW.  The hematologist did not want to say for sure without a bone marrow test, but, what they were basically telling my parents was that I have Leukemia. They told me it is a very, very, rare case of Leukemia. It's called Acute Myelogenous Leukemia (AML) with a sub type M-7.
Knowing that I was no longer going to be the Head Cheerleader for the JV squad, I just started crying, and then I asked, "Will I be out of here in time for Winter Formal?"
Updated 4/14/2015: After battling cancer for 529 days, Saylor unfortunately passed away today.  She was such a strong fighter and inspiration to all!  Her family could still greatly benefit from your generous donations.
Scarlette Tipton (Trabuco Canyon, CA)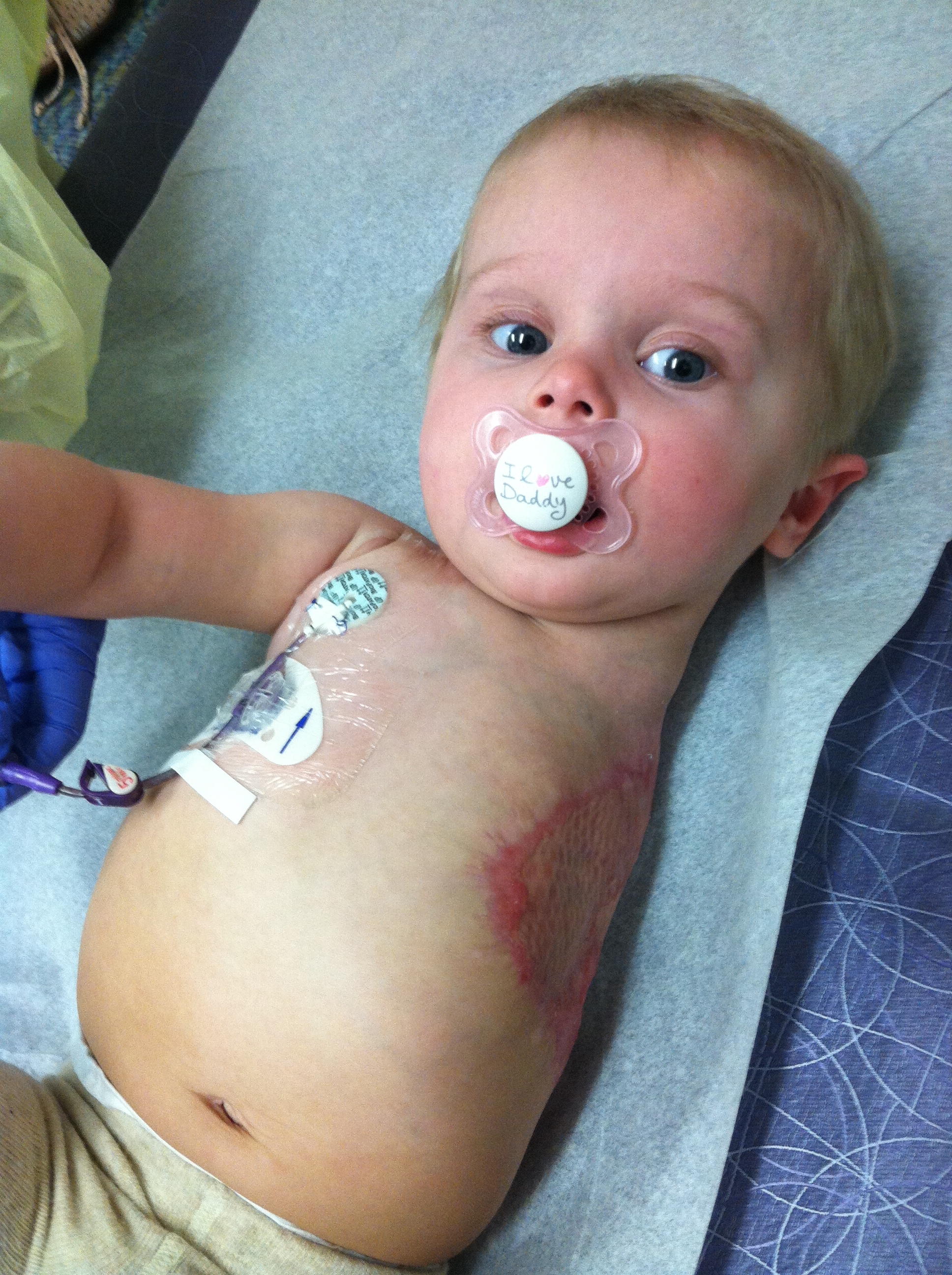 Since the day Scarlette Rose Tipton was born, she has baffled doctors around the country. She was born with an enlarged left arm, chest, and shoulder, and no explanation as to why could be found. By the time she was 2 months old, she had a PICC line placed in her chest, a round of chemo, and two biopsies done on her arm. She bounced around two different diagnoses, and no one could come up with an answer, until a tumor started to grow. Over the course of two months, it grew and grew and took over her entire back. After two extensive surgeries to shut off veins supplying the tumor, she had it removed in late April. In the beginning of May, she got the diagnosis of Undifferentiated High Grade Spindle Cell Sarcoma. The day they called to tell her the news, they found another tumor on her spine.
After removing this tumor, she started a 12-week chemo plan and waited to see where it would take her. Though chemo did its job in stopping new growth, it did not minimize the already grown tumor in her arm and chest. It had completely wrapped itself in all her muscles, veins, arteries, and bones. No one in California would touch her when asked if they could remove it surgically. Doctors contacted the Mayo Clinic in Minnesota and they agreed that they could remove it, but it meant that her arm, shoulder, clavicle, scapula, and all the surrounding skin had to be removed as well. If she didn't do the surgery, they said she wouldn't live past a year. She returned to Minnesota and they successfully completed the surgery, did skin grafts and a fake skin to cover the wound, and she has healed wonderfully. She is now considered NED (no evidence of disease)!  She still needs to have two more surgeries, one to place skin expanders, and one to remove the expanders 6 months later and close the wound completely. After 19 surgeries, we know she will fly through these last two no problem!  She has taught us all that you don't need two wings to fly!
Reese Imhoff (Ladera Ranch, CA)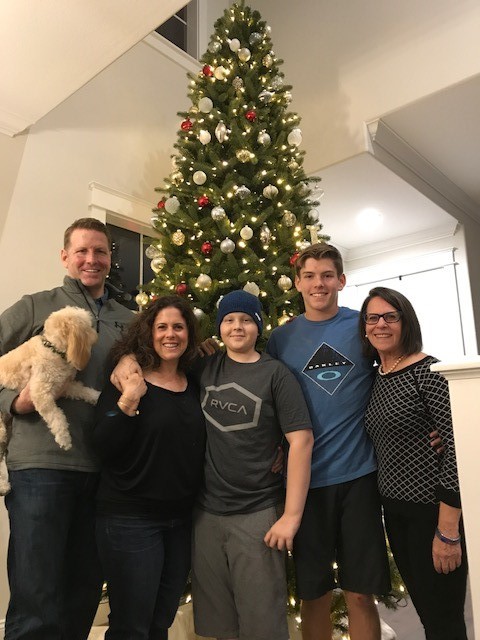 Reese Imhoff lives up to his nickname, "The Beast," as he continues to fight osteosarcoma. Reese was diagnosed half way through his 6th grade year when a tumor was found in his femur. Since then, all of his family's time, energy, focus, and resources have been poured into this fight and Reese's ultimate healing. Since his diagnosis, Reese has undergone major surgeries (on his femur, pelvis, and lungs), spent months in the hospital on various chemotherapy treatments, and with intense physical therapy learned how to walk again TWICE. Currently his treatment is at home as he focuses on strengthening his ability to ditch the crutches and walk on his own. Reese has fought like few have ever witnessed and is making strides in his healing and recovery that are awe inspiring to everyone he comes in contact with (including his medical team). And the fact is he has so much to fight for! Reese looks forward to starting high school in the fall and walking the J Serra halls alongside his older brother, Max. Funds raised to help Reese's family not only assist in accumulating medical expenses and essential physical therapy but are also being used to develop awareness and research in hopes of a cure for this rare disease. The Imhoff family's approach has been to LOOK UP and REACH OUT. And because of that, we can see Reese getting back UP on his feet and stepping OUT into a bright future.  We are so grateful for Gas4Katie and for all of your kind donations and support. We will keep fighting because Reese is our BEAST!
Liam Vest (San Diego, CA)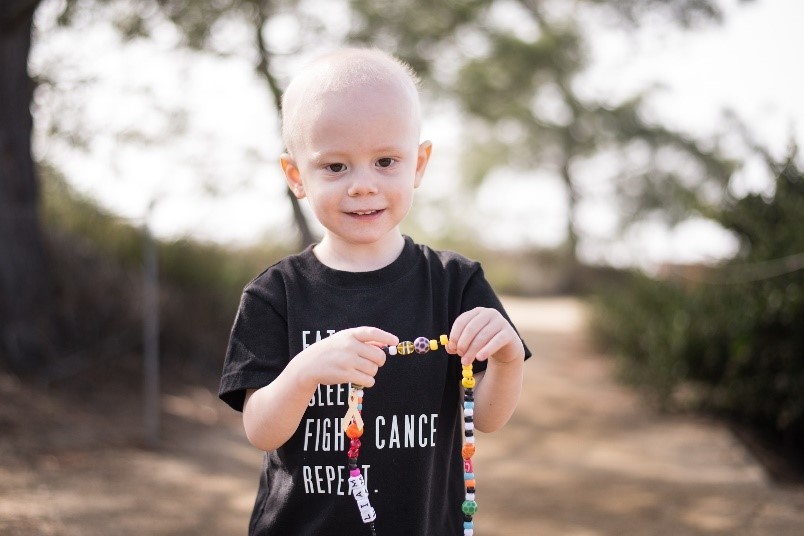 Liam is a loving and caring 3-year-old, he loves to play and use his imagination. He loves to laugh and tells great jokes! He loves cars, trains, fixing thing with his tools. He loves to be outside as much as he can and loves to read books. He is an amazing son and brings so much joy and love to our lives! We can only imagine all of the adventures ahead!
Just before Liam's second birthday, he came down with a double ear infection and was put on antibiotics. A couple weeks later, he was still having unexplained fevers and fatigue. We knew something wasn't right and we thought the ear infection was still present. When his doctor said his ears were clear, we immediately talked about getting blood work done since he had very swollen lymph nodes along his neck, as well as abnormal bruising. About 3 hours after the blood work, we were called back to the office and our doctor shared that Liam was extremely dehydrated, very anemic, and she was 98% positive that it could be leukemia based on his blood work. We were sent directly to the ER to be admitted and begin testing.  He had a bone marrow aspiration the next day. We were given the official diagnosis two days later. Liam was diagnosed with B-cell Acute Lymphoblastic Leukemia and started treatment right away.
Liam was put into the very high-risk protocol for treatment because of his bone marrow results and because he did not reach remission in the first 30 days. His treatment was very intense over five phases that were each eight weeks long. Each round consisted of weekly chemotherapy and many lumbar punches under sedation to inject chemo into his spine. One phase included four rounds of high-dose methotrexate, which needed a 4 to 5-day hospital stay each round. He also had an allergic reaction to a certain type of chemotherapy, so in place of an IV treatment for that chemo, he had to have 56 leg injections. He also had several other hospital stays because he developed neutropenic fevers since his immune system was so compromised. One of the biggest struggles for our family was that my husband had to leave for deployment in August and returned home in January. Before my husband left, we did receive the great news that Liam had reached remission!
Liam is now in the maintenance phase which will be two and half years of daily chemotherapy pills, along with monthly chemotherapy infusions. His total treatment plan will take three years to complete, and his end of treatment date is August 2020.  We can't thank you all enough for supporting our son Liam and our family. We are eternally grateful for your generosity!